Broadmoor secure hospital's heritage 'at risk'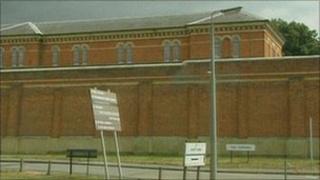 It lies behind thick towering walls, hidden from the public's gaze
But some architectural experts are concerned about the future of Broadmoor top security hospital's Victorian buildings.
The foreboding site in Crowthorne, Berkshire, has been added to a list of the 10 most threatened buildings in England and Wales.
Designed by prison architect Joshua Jebb, Broadmoor opened in 1863 as England's first asylum for the criminally insane.
The hospital was set in 290 acres (120 hectares) on the edge of the Berkshire moors with expansive landscaped grounds and a light, modern interior with organised blocks.
As such, it represented a shift to a new more humane, therapeutic treatment of mental health in the Victorian era.
Ian Dungavell, director of the Victorian Society which compiled the list, said: "We associate Broadmoor with a lot of terrible things which have happened over the years, but actually it's an attractive piece of Victorian architecture."
The group said plans to redevelop the site and demolish some of the buildings threatened part of the nation's institutional history.
Humane approach
Mark Stevens, senior archivist at Berkshire Records Office, said: "By giving a patient refuge in the asylum, the Victorians believed they would be able to neuter the immediate causes of insanity in their day-to-day life."
He described the early years of Broadmoor as a "self-sufficient community" with a farm, kitchen garden and sports fields.
Its airing courts for exercise and communal areas made it more of an "uplifting experience" and set it aside from the overcrowded conditions of Bethlem hospital, known as Bedlam, where London's "lunatics" were held.
Often incorrectly referred to as a prison, some of the country's most notorious criminals, murderers and sex offenders have been treated within the hospital.
Notorious gangster Ronnie Kray ended his days at Broadmoor having being declared insane, while serial killer Yorkshire Ripper Peter Sutcliffe is still detained at the hospital.
However, the ageing buildings were declared as "unfit for purpose" by the Commission For Healthcare Improvement in 2003.
An NHS spokesman said: "These Victorian structures not only make it increasingly difficult for staff to provide the modern day mental health care services our patients need, and have an impact on running cost."
West London Mental Health NHS Trust is awaiting Department of Health approval for the proposed £250m redevelopment of the site.
While the trust has agreed that no listed buildings will be demolished, under the plans the unlisted female block will be demolished to make way for a new psychiatric therapy centre.
The remaining Victorian blocks will then be transformed into a boutique hotel alongside more than 100 homes.
Mr Dungavell said: "We are concerned about the loss of historic buildings and that demolition will effectively write the presence of women out of Broadmoor's history and we are worried about the damaging effect of building so many new homes in this listed landscape.
"But most of all we fear that this development jeopardises the future of Broadmoor's unique and well-preserved historic buildings."
An NHS spokesman insisted: "The trust must balance the requirement to meet national NHS standards of care and its duty to provide patients with high quality therapeutic treatments and services, with the preservation of the Hospital's existing Victorian buildings.
"Our proposals for the much needed redevelopment project will enable us to do so, whilst creating a safe secure modern setting and ensuring our patients have access to the specialised care they need."