Slough man relives experiences on World Mental Health Day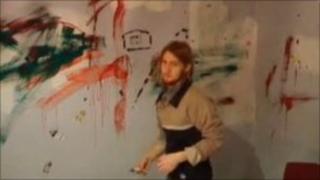 One of the first signs that something was very wrong was when Peter Wilson came home to find his 21-year-old son Ross soaking one of his books in the bathroom sink.
Ross Wilson, now 25, from Slough, Berkshire, has been reliving his story to raise awareness on World Mental Health Day.
It was a journey that took Ross to New York as a self-proclaimed spiritual leader and left him penniless and living under a bridge in Louisiana.
He has since been diagnosed with schizophrenia with depression, and relies on daily medication.
He said: "You can come through it, you can survive and you can thrive afterwards."
But it was that day four years ago that he describes as the first thing he did that was "really weird".
Smashed guitar
Ross said he took the book because he believed his father was addicted to science-fiction books and was attempting to "heal" him.
Soon afterwards, Ross flew to the US with a new doctrine of "spreading the word".
"When I went to America on my quest to heal the world I found a shop in Harlem with loads of funky African dresses.
"I bought a bright yellow African dress with a head scarf and sandals and decided I would wear that and only that and threw away the rest of my clothes."
Events spiralled further out of control after Ross misread a bank statement.
"I saw there was £1,000 extra that I didn't know about and I believed it had been a gift from God.
"It turned out it was my overdraft.
"I bought two guitars and about 30 CDs and spent everything I had.
"I got kicked out of my hostel because I couldn't afford to live there anymore. I also missed my plane home as the voice in my head kept telling me to stay.
"I smashed one of my guitars, gave the other away, and my amplifier and camera, because I thought I was going to a better spiritual place where I wouldn't need them."
'Jesus role'
But Ross' attempts to spread the word were met with confusion.
"My approach to the spiritual path was to stare at people.
"As I got more and more into believing my Jesus-type role I actually believed I was hearing the voice of God.
"You can imagine I got a lot of strange looks and people acted upset around me."
Ross moved to Louisiana with an acquaintance but his behaviour resulted in him being thrown out of the apartment after a week.
It was then that he put himself completely in the hands of his faith.
"I figured I would live by God and let the universe provide for me.
"I went walking for miles and found a bridge."
Ross lived under the bridge beside a homeless man for three days, relying on a dirty pillow and duvet, found behind a shop, for warmth.
But eventually he phoned his parents and told them he wanted to come home.
Despite telling them they would never see him again if they attempted to section him he eventually sought help himself.
He walked into an A&E department of a hospital and told them he was "mad".
Nowadays, Ross plays in a band called Wilson and gives talks to "promote awareness and to tackle the stigma surrounding mental health issues".
He will perform a charity gig at The West Wing Arts Centre in Slough on 15 October.
He believes the secret to dealing with mental health problems is to tackle them early on.
He added: "There is help out there and you just need to take those first steps to go to your doctor and not be afraid of it.
"It was a horrible time for everyone. I rely on the fact that the people around me are a lot more clued up on recognising my early warning signals.
"We should be OK."