Hampshire legal threat over 3,500 Wokingham homes bid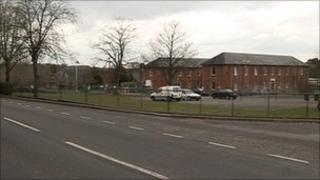 Hampshire County Council could take legal action against another authority to stop 3,500 homes being built across its border in Berkshire.
Wokingham council plans to build on Arborfield Garrison when the Ministry of Defence puts it up for sale in 2015.
It forms part of the authority's blueprint for 10,000 homes by 2026 as it looks to meet an increasing demand.
But Hampshire County Council and some residents fear the rural road network will not be able to cope.
The masterplan was approved by Wokingham councillors last week.
Hampshire Lib Dem councillor David Simpson said his council would consider a judicial review if the plans go ahead unaltered.
Traffic projections
Gill Purchase, from Arborfield Garrison Residents Action Group, said: "We will support any development... that is carefully thought out and controlled, but the infrastructure isn't there.
"There isn't the roads, there isn't the local facilities and the green fields that you see now will simply have a lot of houses built on them."
Councillor Angus Ross, planning chief at the Conservative-led Wokingham council, said its modelling was showing much less traffic than projections from Hampshire residents.
"We are keen to enter very open dialogue with them [Hampshire County Council]," the councillor said.
"I very much hope we don't [end up in a legal battle] and myself and our officers are doing all we can to supply information to Hampshire County Council so we can come to a resolution."
The homes are set to be built at four main sites - 2,500 homes south of Wokingham, 1,500 homes north of Wokingham, 3,500 homes at Arborfield Garrison and 2,500 homes south of the M4 at Shinfield, Spencer's Wood and Three Mile Cross.