Downton Abbey extra role on offer at Highclere Castle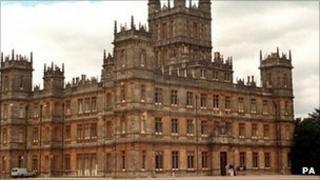 Fans of TV period drama Downton Abbey are being given the chance to become an extra on the show.
A charity auction is being held on Sunday at Highclere Castle near Newbury, Berkshire, which is the location for the ITV1 programme.
Other lots up for grabs include a guided tour of the house by a cast member and a signed script from the first series.
The event is in aid of the armed forces charity Help For Heroes.
Bidders will also get the chance to win props and telegrams used by characters and a trip in a helicopter flying alongside a Spitfire or Hurricane aircraft over the white cliffs of Dover.
The award-winning show - which follows the Crawley family around the time of World War I - is currently in its second series.
The auction is part of a day billed as Heroes at Highclere and also features battlefield and aerial displays, marching bands and other musical entertainment.