LGBT community in Reading to receive £10,000 grant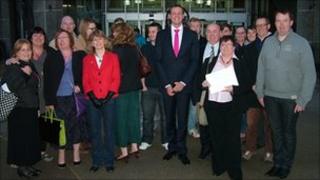 The lesbian, gay, bisexual and transgender community in Reading has received a £10,000 grant from the council to set up a support centre.
Councillors at a full council meeting unanimously backed a motion by member Tim Harris to give the Support U initiative accommodation and funding.
Reading Pride and Support U director Lorna McArdle said it was "great news".
Mr Harris said the "residents of Reading would significantly benefit from a support centre in the town".
Moving a motion to support the plan, Mr Harris, said: "There are still very real issues today in Reading - members of the LGBT community are four times more likely to die of suicide. Depression, eating disorders, self-harm, isolation are commonplace.
Not be judged
"HIV - I personally know two people living with the disease, interestingly neither would ever speak about it publicly because of the stigma."
He said people seeking advice from an LGBT centre would know they would not be judged.
The motion, which was seconded by Councillor Jamie Chowdhary, received unanimous cross-party support.
Ms McArdle said the centre would help individuals deal with coming out, as well as with housing and social issues.
She said: "It's great news. I will be seeing what buildings are available and incorporate all of the LGBT organisations in Reading."