Chieveley incinerator plan 'capacity reduced'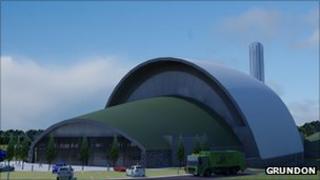 Plans for an incinerator in an Area of Outstanding Natural Beauty in Berkshire have been scaled down.
Waste management firm Grundon wants to build the facility in the Old Kiln Quarry site beside the M4 motorway at Chieveley.
The company said the plant's capacity would be cut from 300,000 to 250,000 tonnes in response to local opposition.
Campaigners called the changes "minor", and said it would damage the landscape and lead to a rise in vehicle numbers.
A statement from the West Berkshire Against Grundon Incinerator group said: "It does not alter the fact that the proposed site is in a designated Area of Outstanding Natural Beauty which is wholly inappropriate for such a development."
Grundon is holding an information day in Newbury to discuss the plans.
It has said the incinerator would provide a safe, efficient and environmentally sustainable way of dealing with waste while providing electricity for about 50,000 homes.
As well as the reduction in capacity, the height of the proposed chimney stack has been reduced from 280ft (85m) to 245ft (75m).
Bob Nicholson, director of estates at Grundon, said: "We took notice of all the comments made during the consultation and reworked the proposals."
The planning application is expected to be submitted to West Berkshire Council soon.