Charles 'may use Windsor Castle over Buckingham Palace'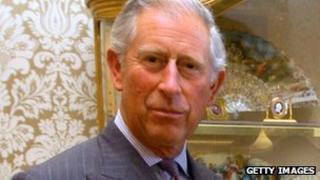 Prince Charles may make Windsor Castle in Berkshire the main royal residence when he is King, the BBC's Andrew Marr claims.
Mr Marr said sources close to the prince had ideas to give his reign "a reasonably dramatic new start".
He added Buckingham Palace could be turned into "a national centre for grand occasions and receptions".
A Clarence House spokesperson said: "This is just speculation. There have been no plans about such matters."
Buckingham Palace, which has 775 rooms, has been the official London residence of Britain's sovereigns since 1837.
Mr Marr said: "I don't think the royal family were ever particularly fond of Buckingham Palace."
Prince Charles is the longest-serving heir apparent in British history.
The previous record, of 59 years, two months and 13 days, was set by his great-great-grandfather, King Edward VII.
The Queen currently uses Windsor Castle both as a private home and as a royal residence where some formal duties are undertaken.
Mr Marr's claims appear in his new book on the monarchy.