The Circus Sands' release single Awake All Summer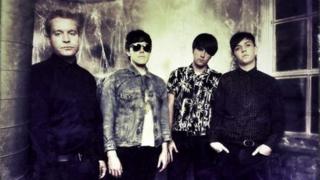 Reading indie band The Circus Sands are releasing a single on Halloween that harks back to sunnier days.
Awake All Summer was inspired by a party near a lake by the M4 motorway.
"It was an all day rave party," said frontman Simon Corcoran. "It was a beautiful sweltering hot day."
Once he returned home Simon penned the track, which is "a remembering back kind of song" and recorded it at Studio 91 in Newbury, Berkshire.
Awake All Summer and its double A side, Sugar, will be released on 31 October.
The single highlights the band's move to a more poppy and light-hearted sound, having previously released an EP called Dr Death featuring songs entitled Murder On The Streets and Better Dead.
The single, the band admit, is a bit of an unusual one to release on Halloween, but they hope it will spark a nostalgia for the summertime.
"We spent most of the summer partying and writing the songs that we didn't have time to release them," Simon said.
"But the song makes you think about that time."
The band are busy writing more material in November but you can catch them performing with MidiMidis on Saturday 12 November at the Oakford Social Club, Blagrave Street, Reading.
Find out more about the band here.