Reading bus stop death crash driver Lola Olayemi sentenced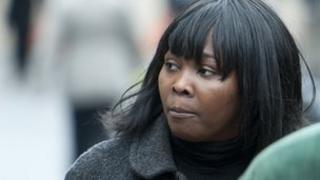 A woman who killed a mother and injured her nine-year-old son when she lost control of her car in Reading has been given a 12-month community order.
Catriona Scott, 44, was waiting for a bus with her son Miles when Lola Olayemi's Toyota smashed into the shelter in Caversham on 28 February.
The bus stop collapsed on top of the pair and Ms Scott died from her injuries in hospital two days later.
Olayemi, 34, admitted death by careless driving at Reading Crown Court.
Ms Scott's son, who suffered a fractured skull in the crash, has since made a full physical recovery but is still receiving counselling.
'Fear for future'
In an impact statement read out to the court, Ms Scott's 71-year-old father George, said: "I have no life now.
"My life centres around my grandson and to ensure he gets over his problems as soon as possible.
"I fear for the future and wonder what will happen to Miles. My life has changed beyond recognition."
Olayemi, of Reading, was ordered to complete 240 hours of unpaid work and was disqualified from driving for 12 months.
Judge Stephen John told Olayemi that he had taken her remorse and early plea into account.
Passing sentence, the judge said: "This tragic accident was caused by inattention, at the most for three seconds. You failed to steer and avoid them. This is a road on which you are very familiar.
"Ms Scott was a 44-year-old mother but your inattention deprived a loving father of a daughter and a nine-year-old of his mother."
Olayemi also admitted stealing £327 from Debenhams in the town, within an hour of being charged for the driving offences.
The court heard it was her fifth court appearance for shoplifting.
She received a 12 month community order to run concurrently and was ordered to complete a further 60 hours of unpaid work.