Thatcham's Jacqueline Cass gets MBE for work with disabled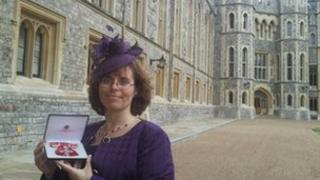 A Berkshire woman who set up a wheelchair basketball club for disabled people in 2004 has been honoured with an MBE.
Jacqueline Cass, 26, of Thatcham, set up the club when she was 19, as part of her Queen's Guide Award voluntary work.
The Thames Valley Kings Wheelchair Basketball Club has 19 players with physical disabilities.
Ms Cass, still involved with the club, was presented with her MBE by Princess Anne, at Windsor Castle.
She said the MBE was "totally unexpected".
'Only club'
"When it came in the post, at first I thought it was a speeding ticket," she said.
"I was speechless. I was on the phone to my mum and began shaking."
Ms Cass said it was "quite exciting" to meet the Princess Royal, for a second time
"I met her when she came to open the West Berkshire Community Hospital where I work, back in October 2004," she said.
"Yesterday I was at work being an occupational therapist, today I'm meeting the Princess Royal at Windsor Castle."
Ms Cass said the club, which runs training sessions at Kennet Leisure Centre, Thatcham, gave people a chance to join in activities they otherwise might not enjoy.
"We're still the only wheelchair basketball team in Berkshire," she said.
"We've got players who come up from as far away as Dorset and Guildford."