Sunningdale murder accused treated victim as 'family'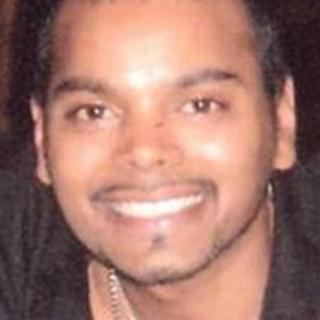 The widow of a Berkshire man found buried in sand inside a van has told a jury his accused killers treated him "like family".
Shaleem Amar, 33, died from head injuries following an alleged hammer attack on 17 November.
The murder is believed to have been carried out at a luxury house Mr Amar was renting in Sunningdale near Ascot.
Robert Johnston, his sons Tom and Ben, and his friend Shaun Matthews, all from Cambridgeshire, deny the charges.
The victim's widow, Shajiba Amar, 32, told Reading Crown Court she met the entire Johnston family in the summer of 2010.
'Very close'
She described the men's relationship with her husband as being "very close."
"They were fond of him and my husband was fond of them."
Mrs Amar had visited the house on the day of Mr Amar's death, arriving in the early afternoon.
She said there was a white van parked in the driveway behind the gates, blocking her from entering.
After several minutes Derek Johnston came out of the house, but she said he "ignored" her.
When she asked him where her husband was, Mr Johnston told her he had gone to the airport to pick someone up, she told the court.
Mrs Amar said she did not see anything in the van.
The trial of Johnston senior, 57, and his two sons, Tom, 25, and Ben, 27, all from Pampisford, Cambridgeshire, and Matthews, 56, from Whittlesford, Cambridgeshire, continues.