Newbury mother trains in freezer for South Pole trek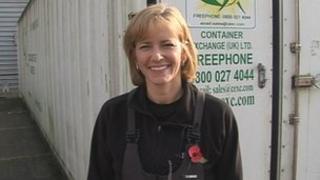 A Berkshire woman who calls herself "an average working mum-of-two" is spending 24 hours in an industrial freezer to prepare for a South Pole expedition.
Julie Ashmore, from Newbury, is in training ahead of a 22-day trek to mark the 100th anniversary of polar explorer Captain Scott's ill-fated 1912 expedition.
Leaving on 1 January 2012, she is part of a team of four who are all camping in the freezer in Portsmouth, Hampshire, on Saturday.
The group will emerge on Sunday at 11:00 GMT.
Before entering the freezer, situated on a food manufacturer's site, Mrs Ashmore said: "It's not my usual weekend I have to say, I'm usually dropping kids off at swimming, football and dance clubs.
"It's going to be very interesting, it's the closest I can get to spending time in the South Pole."
The freezer is a 40ft by 8ft (12m by 2.5m) container with no windows and only one door.
The temperature will be similar to that of the South Pole in January - about -25C (-13F).
The team will be sharing a three-man tent among the frozen foods stored inside.
Mrs Ashmore met expedition leader Neil Laughton by chance after she had the idea to go on a polar expedition.
She said: "I climbed Mount Kilimanjaro last year because I fancied myself as a bit of a mountaineer but I discovered that altitude and I don't really mix.
"So I thought if I can't do mountains, why not think of something a little bit flatter."
Capt Scott's party died in the antarctic as they tried to return to base, short of supplies and suffering from starvation and hypothermia.