Flood defences planned for Reading homes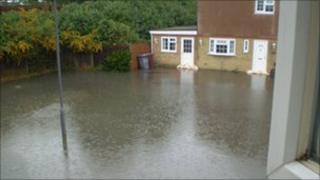 Anti-flooding measures costing £100,000 could be installed in a Berkshire street which was affected by floods.
Alleviation work was carried out near Kingsley Close, Reading, earlier this year but homes flooded again in August after heavy rainfall.
New proposals include raising door sills and installing sealing bricks around pipes and other access points.
An investigation by Reading Borough Council also recommended installing a drainage ditch along the nearby A33.
Councillors are due to vote on the proposals on Monday.
The last flood alleviation work was carried out because the area was hit by floods in 2007.
The work, in the Whitley area, was part of the £65m junction 11 improvement scheme.
The junction work, to reduce flooding near the M4, included ditch clearing, pipe cleaning and upgrading of grills around the A33.
It was intended to help protect the whole of the south Reading and Kingsley Close area during heavy rainfall.