Newbury companies asked to 'chip in' for flood defences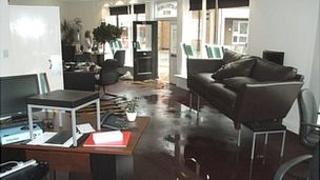 Lorraine Wilson had just moved into new offices in Berkshire in November 2007 when it began to rain heavily.
"It was terrifying," the Newbury estate agent said. "We had 5ins (13cm) of water inside the office."
In the past four years, the business has been flooded several times.
Businesses in the town have been asked by the Environment Agency (EA) to contribute funds to flood defences designed to protect their premises.
But the decision has angered traders who claim they are already paying enough in business rates.
Mrs Wilson agrees, especially as the flood defences planned by the Environment Agency would not be designed to protect the area of town where her business is based.
"We've built our own flood defences since, a board which we put up to stop the water coming in," she said.
'Just hideous'
"It's horrendous. The insurance is going up all the time. It's just hideous. We've had to clean up after being flooded with sewage before.
"I'd be angry if I was asked to contribute to a scheme like that."
Businesses in the town have been asked to jointly meet a £111,000 shortfall on a £1.5m scheme to stop a one-in-100 chance of a major flood in the area.
Newbury Racecourse, New Greenham Park and Vodafone have also been asked to contribute to the scheme.
Ginette Gower, of Thames Valley Chamber of Commerce group, said there was "considerable anger" among businesses.
Barry Forkin, who owns Barry Forkin Toomers Hardware Store, says he was "struggling to survive" as it is.
"We're only a small business... and they want to take even more money off us," he said.
"None of the businesses around here have been flooded by the river since the 1960s."
Ms Wilson's business was flooded in 2007 by surface water bubbling up from under the drains, the year when large areas of the UK were flooded.
However, the EA says that if the nearby River Kennet were to burst its banks, the resulting flood would be far worse than any experienced in the area since 1960.
Plea meeting
David McKnight, a technical specialist in flood risk at the EA, said: "It's a one-in-a-hundred-year event, which is the same as a 1% chance in any given year.
"The rivers would spill into the flood plain, like a reservoir filling up, with water up to 1m deep and up to 600m wide."
Mr McKnight estimates that such a flood would affect more than 380 residents and nearly 70 businesses.
Areas include the town centre, residential areas around Russell Road, Northcroft Park, Northcroft Lane and Victoria Park, as well as businesses around Ampere and London roads.
Businesses in the potentially affected area have received letters and been asked to attend a meeting on 29 November at Shaw House in an attempt to persuade them to contribute towards the flood prevention project.
West Berkshire Council has so far contributed £180,000 to the project and Newbury Town Council has paid out £45,000.