Killer Robert Brown had 'lack of thought' for children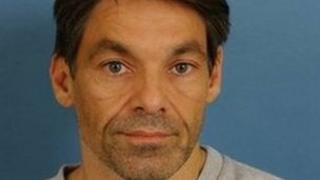 A pilot who battered his estranged wife to death in Berkshire showed a "chilling" lack of thought for his two children, a senior judge has said.
Robert Brown, 47, killed his wife Joanna, 46, with a claw hammer while their children were in a nearby room.
He admitted the manslaughter of Ascot guesthouse owner Joanna Brown, 46, and was jailed for 26 years.
An appeal against his sentence was refused on 25 November, but the reasons have just been revealed.
Lord Chief Justice Lord Judge said the youngsters "heard and saw this terrible crime unfold" and their mother was the victim of a "brutal attack in her own home within moments of greeting her children after weekend contact with their father".
British Airways pilot Brown, of North Street, Winkfield, believed he was "stitched up" by a prenuptial agreement with his wife, a wealthy guesthouse owner.
After killing her in October 2010, he buried her body in a pre-dug grave in Windsor Great Park.
He was acquitted of murder by a jury at Reading Crown Court in May but had previously admitted manslaughter on the grounds of diminished responsibility.
Lord Judge said: "The events, if not actually seen by the children, were witnessed by them.
"The lack of thought for these young children, even if in part explicable through loss of control when the violence was inflicted on their mother, is chilling.
"It was aggravated when her young daughter saw the appellant put her mother's body in the boot of the car and her son, asking only because he must have known how badly injured his mother was, asked if they were taking her to hospital.
"Not a moment's thought was given to them, or their welfare, or the impact of what he fully appreciated he had done to their mother.
"She, of course, was the first victim of this dreadful crime, but the children too were victims, not merely in the broad distressing sense that they had lost their mother but because they heard and saw this terrible crime unfold."
He added: "None of us can interfere with the decision of the jury and there can be no appeal against the acquittal for murder.
"What is more, the sentence imposed by the judge had to respect that verdict. The essential question in this appeal is whether it did."
The judges ruled that the sentence was not "excessive".
During the eight-day trial in May the court heard Brown and his wife had spent three years of legal wrangling over their divorce which was still continuing at the time he killed her.