Berkshire kidney patients in at-home dialysis treatment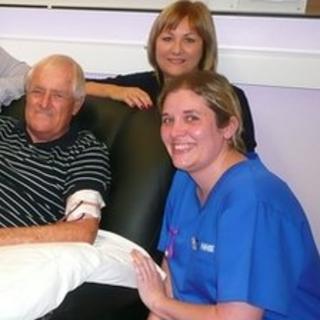 At-home dialysis is being made available to some patients undergoing kidney treatment in Berkshire.
The Royal Berkshire Hospital has started a trial to treat seven patients who are using mini dialysis machines.
Ray Vincent, 67, from Pangbourne, was the first patient to get the equipment supplied.
The treatment saves from having to go to hospital three days a week for four-hour treatments.
Patients can also take their machine, which is about the size of a piece of carry-on luggage, on holiday.
'More freedom'
Mr Vincent said: "I can choose my own times, you can dialyse every day and have more freedom with your diet."
All patients taking part in the trial will be given three weeks of training before they can carry out their dialysis at home.
Specialist nurses will then keep in regular contact with the patients to ensure their treatment continues to be successful.
Tim Statham, of the National Kidney Federation, said: "Although it's early days we suspect these patients are going to live longer, more patients ought to be treated in this way.
"We're very excited about it, more and more companies are building these small machines, so life is going to get better for dialysis patients."
The Royal Berkshire Hospital is one of a number of sites using the equipment.