Portsmouth woman helps homeless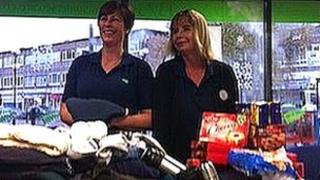 A Portsmouth woman is collecting and distributing food and clothes to people sleeping rough in the city.
Jenette Mace says she would rather act independently than give money to charities.
The 41-year-old carer started helping Hampshire homeless people in November after realising "something was missing" in her life.
She goes out into the city twice a week to chat to homeless people and give out food and clothing.
Ms Mace originally hoped to carry out charity work in the third world but she was unable to save enough money from her job as a carer for elderly and vulnerable people with disabilities to travel abroad for charity work.
'Turned to drink'
She said: "I thought I would look closer to home.
"There's a lot of homeless people in Portsmouth."
Ms Mace said many of the homeless people she encountered were former marines or had been in the Army or Royal Navy.
One homeless man she had spoken to was 74 years old, she said.
"One gentleman lost his son at the age of 22 and turned to drink and became homeless," she said.
"It could be your own child out on the streets, it could be a member of your family."
Ms Mace carries out her work with the homeless on Tuesdays and Wednesdays, as on other days of the week the church carries out similar work.
She said she wanted to "see the benefit" of what she was doing rather than give money to charity.