Reading woman beats illiteracy 50 years after leaving school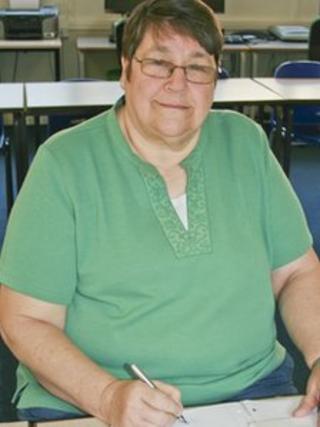 A woman from Reading has learnt to read and write almost 50 years after leaving school illiterate.
Sue Chapman was unable to perform everyday tasks from opening a bank account to choosing food in a supermarket, until two years ago.
Mrs Chapman said her illiteracy caused depression and made her a "social misfit" who never left the house.
The 62-year old widow said the birth of her grandson Freddie encouraged her to seek help as she wanted to read to him.
Mrs Chapman said she was "left behind at school" because of difficulties with learning.
"I used to be a runner for the teachers," she said.
"I used to repair the sewing machines and get the chairs out for assembly. I ended up not learning anything at all."
'Frustrating life'
After leaving school at 14, she worked at a book printers, but soon left because of her illiteracy.
Mrs Chapman said: "It's been a very hard and frustrating life. In the car, I was unable to read road signs so I used to have to keep to the same routes all the time. I once had to wait two hours for an accident to clear.
"For nearly 50 years I couldn't get a bank account, buy a car, read a recipe or move house because I didn't know how to do the paperwork.
"I was a misfit. As a result I didn't join in anything, I had no friends so I used to stay in all the time because I couldn't cope with life."
Mrs Chapman was able to hide her illiteracy from her late husband, as he took care of the family's paperwork, but her children were aware of it.
"I was unable to help them with their homework, they had to sign their own sick notes and were unable to attend school trips as I couldn't read the letters," she said.
"My eldest, Kevin, only told me two months ago that he used to get detention for signing his own sick notes."
Mrs Chapman, a diabetic, said she had eaten the same ready-made meals virtually all her adult life as she was unable to read food packaging or recipes.
'Less depression'
But, by the time she was in her late 40s, Mrs Chapman confided to her GP that she was illiterate and was referred for tests that ­suggested she was dyslexic.
However, it wasn't until after the birth of her grandson Freddie, now aged three, that Mrs Chapman finally ­plucked up the courage to learn how to read and write.
At the age of 60 she ­enrolled on a Government-sponsored adult literacy course at Bracknell and Wokingham College.
"I feel I let my children down over the years of their schooling and I didn't want it to go through another generation," she said.
"Now I can read and write I have less depression, I have friends and I've moved from the house I'd previously lived in for 37 years.
"I wish I'd done it sooner as I've got such a tremendous life now."
Richard Crabb, Head of the Adult Learners' Week team at The National Institute of Adult Continuing Education (NIACE), said, "Sue's story is truly inspirational. Unfortunately too many adults do have difficulty with reading and writing and plucking up the courage to admit you need help is one of the most courageous things you'll ever have to do.
"Sue has turned her life round and given hope to so many people about what is possible."