Transport Minister sees East West rail plan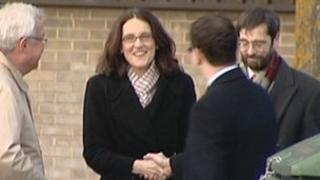 Transport Minister Theresa Villiers has visited Oxfordshire to see plans for the new East West rail line.
She went to Bicester, which sits in the middle of the project to link Reading with Bedford.
The town is expected to benefit from improved rail links to its retail outlet Bicester Village and a new freight hub at its military depot.
Work will begin on the £279m scheme by 2014, and it is hoped trains will be running three years later.