'No motive' for Shaleem Amar hammer killing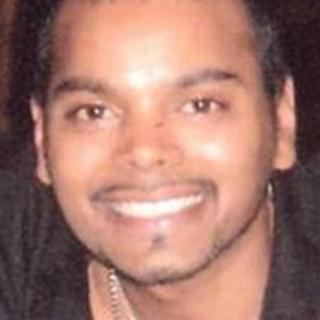 Four men accused of murdering a father-of-three whose dying body was found in the back of a van had no motive for killing him, a court has heard.
Shaleem Amar died from head injuries after allegedly being struck repeatedly with hammers on 17 November 2010.
The killing is believed to have happened at a luxury house Mr Amar, 33, was renting in Sunningdale near Ascot.
Robert Derek Johnston, sons Tom and Ben and his friend Shaun Matthews, all from Cambridgeshire, deny murdering Mr Amar.
Robert Johnston, 57, who was Mr Amar's business partner and is known by his middle name, earlier told Reading Crown Court that he hit Mr Amar with a hammer in self-defence after the pair argued over money.
The trial has heard police later pulled over Mr Johnston senior's white van and found Mr Amar covered in 50kg (110lb) of sand in the back of the vehicle.
He was still alive but died of his injuries at the roadside.
During his closing speech, Martin Heslop QC, defending younger son Tom Johnston, 25, told jurors no motive had been found for killing Mr Amar and emails between the parties in the days leading up to the alleged attack had actually "demonstrated affection" for him.
Blood splattered clothes
He said: "Let's be realistic, if you may, members of the jury. People don't go and kill somebody else in a premeditated operation without some reason for doing so.
"If it was premeditated to go and kill him, then why didn't they do so? Why didn't they kill him?
"Why did they move a man who's alive into the van? Why attack him at his house?
"If they were going to kill him, why did they wait so long? You'd expect them to be in and out as quickly as possible in order to prevent them being caught."
Mr Heslop said neither his client's DNA nor fingerprints were found on the hammers allegedly used in the attack.
Referring to forensic evidence of blood splattering found on his clothes, he said it could not be known whether this was caused by his client being involved in the killing, or from him taking part in the clean-up process.
He said Tom Johnston's "mere presence" in the van and at the time of the attack "do not in themselves prove anything".
The court previously heard Mr Johnston senior had bought three club hammers, four pairs of gloves, bags, a wheelbarrow, torch and bags of sand the day before the killing.
Mr Heslop told jurors this was no indicator of guilt in itself. He said it was unlikely the defendant would have bought items with which he planned to carry out a murder from a shop where he had been a regular customer for 20 years.
The trial of Mr Johnston, his two sons, Tom, 25, and Ben, 27, all from Pampisford, and Mr Matthews, 56, from Whittlesford, continues.