Killers were 'close friend' of fugitive Shaleem Amar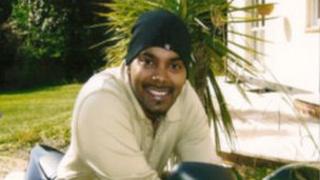 Shaleem Amar had been on the run from prison for a year-and-a-half when he was killed at his rented home in Berkshire.
Robert Johnston, his sons Tom and Ben and friend Shaun Matthews, carried out the murder. Mr Amar was beaten with hammers and buried in sand.
The 33-year-old had absconded while on day release from an open prison where he was serving time for firearms offences.
His widow previously described Robert Johnston, known by his middle name Derek, as a close friend who treated her husband "like family".
But after the trial Shajiba Amar branded the men's actions as "nothing short of evil".
The Johnstons had known Mr Amar for a year, during which time they had formed a business relationship.
Police were never able to fully understand the nature of Mr Amar's business dealings with the Johnstons but it did emerge that Mr Amar had been renting his luxury home in Hancocks Mount, Sunningdale, under a false name since September 2010.
VAT fraud
The father-of-three had been paying another man to use his identity while he was on the run to avoid detection.
Mr Amar was also suspected of running a fraudulent business, claiming VAT on non-existent sales of goods.
The Crown Prosecution Service confirmed that in 2004 Mr Amar was pulled over by police for "minor matters" but was found to have a gun and ammunition in his glove box.
He told officers he had found the weapon a couple of days earlier and had planned to hand it in.
He pleaded guilty to having a firearm and ammunition in a public place in October 2004 but then absconded for three years.
He was eventually jailed for four-and-a-half years in 2007 but failed to return from a resettlement day release in May 2009. He remained a fugitive until he was killed in November 2010.
Prosecutors said, at the time of his death, Mr Amar was being investigated over "dodgy" invoices and had previously been acquitted of a kidnapping charge.
His wife Shajiba, 32, told the court she understood her husband's business relationship with the Johnstons had involved "investments" and her husband had described them as a "good family, honest and well respected".
'Tip off'
She said their relationship had been "very close".
"They were fond of him and my husband was fond of them," she said.
Mr Amar's final encounter with the police was in November 2010 when he was found dying in a gravel sack, buried in sand in the back of Robert Johnston's Mercedes Sprinter van on the A30 in Sunningdale.
He was discovered only by chance when an unmarked police car pulled the van over after a tip-off that it had been involved in a burglary.
Officers arrested the men, who were covered in blood, before noticing the sack in the back of the van which was moving.
Despite the efforts of officers, an off-duty nurse and paramedics, Mr Amar died at the roadside. He had been beaten with hammers.
Mrs Amar, who waited a year for the trial, said the men had committed the most "horrendous and violent murder" motivated by greed. She said: "Every part of me wants them to suffer as they have made me and my children suffer."
Robert Johnston, 57, his sons Ben, 27, and Tom, 25, all from Pampisford, Cambridgeshire, and Shaun Matthews, 56, from Whittlesford, Cambridgeshire, were all convicted of murdering Mr Amar at the luxury mansion.
But Johnston senior told the court it was he alone who had inflicted the fatal blows after a row had broken out in the kitchen about money.
Mrs Amar, who had been living an a different address, arrived at the house and saw the men and the van but was told her husband had gone to the airport to pick someone up.
She said: "I knew something was wrong when I saw the Johnstons' and Matthews at Tresanton that day, but even in my wildest dreams I never imagined the true horror of what they had just done to Shaleem.
"It tortures me every day to think that Shaleem was dying in the back of their van when I was just yards away from him."