The Queen opens the Windsor and Royal Borough Museum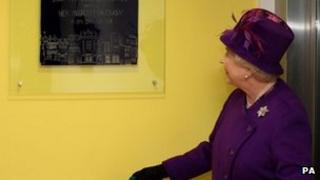 The Queen officially opened a new museum housed in the Berkshire town guildhall where Prince Charles married Camilla Parker Bowles in 2005.
The £300,000 museum is housed in the Maidenhead room of the 17th Century Grade I listed Windsor Guildhall.
After the ceremony at Windsor and Royal Borough Museum, she was shown a selection of displays, including Bronze Age jewellery discovered in the area.
The museum opened to the public earlier this year.
After unveiling a plaque, the Queen was presented with a posy by a pupil from The Queen Anne Royal Free First School in Windsor.
'Fascinating history'
Children from Year 4 at the school were on hand to demonstrate a typical class visit to the museum.
Before attending, the Queen visited the new offices of Dedworth Medical Centre, a GP practice used by Windsor Castle staff.
Speaking earlier, Asghar Majeed, mayor of Windsor and Maidenhead, said: "We are very honoured that Her Majesty The Queen is to officially open our museum.
"The event will be the latest highlight in the Guildhall's long and fascinating history."
Sixty years ago in 1951 the Queen, who was then Princess Elizabeth, opened the refurbished Windsor Guildhall.
Prince Charles married Camilla Parker Bowles in the Ascot Room - chosen for the event as it was not overlooked by windows from nearby buildings, unlike the council chamber.
Sir Elton John and David Furnish also performed their civil partnership in the Ascot Room.
The foundation stone of the guildhall was laid on 5 September 1687 and the extension in which the museum is housed was completed in 1830.
Markets were held there until 1901 when the ground floor was enclosed.
The museum's collection comprises more than 6,300 objects including pre-historic tools, Bronze Age, Roman and Saxon artefacts, maps, textiles, books, paintings and prints, together with objects and ephemera from before Victorian times up to World War II, the 1950s and the present day.
Since it opened to the public in March, it has had more than 20,000 visitors.