Reading charity PACT helps 40 children find new families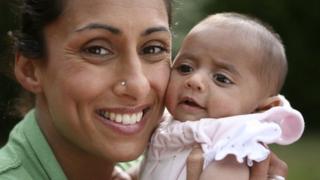 Christmas can be an unsettling time for children in care.
The absence of a birth family is starker during the festive period and youngsters can feel uncertain about their future, Reading-based charity Parents And Children Together (PACT) said.
This year the charity said it had found permanent homes for more than 40 children in time for Christmas.
But PACT assistant director Jean Smith said it needed to find more than 100 adopters or long-term foster carers in 2012.
As part of its recruitment drive, the charity has highlighted how important Christmas is for both adopted children and adoptive parents by using examples of those who have used its services.
'The happiest family'
Saira Khan, a former Apprentice contestant, used PACT's international agency to adopt baby Amara from Pakistan.
She said: "This will be our first Christmas as a complete family - mummy, daddy, Zac and Amara.
"We cannot express in words the joy adoption has brought into our lives.
"We will be the happiest family this Christmas thanks to PACT. Having Amara feels like Christmas every day."
PACT adoptive couple Debbie and Steve Derbyshire said their new son James was "special" following years of failed IVF treatment.
"Our first Christmas together was especially exciting for us all," said Mrs Derbyshire.
"The joy as a family all going to visit Santa and making a whole day out of it is wonderful."
But Francesca Fogell from PACT said some children would never find permanent new families because there were not enough adopters.
'Family to family'
She said: "There is a real need for more people to come forward and adopt so that children are given a secure future more quickly."
She added that children in short-term foster care could feel emotionally insecure as they are moved from family to family.
"It's better if there is a permanent family, and it's better for the children if they are adopted at a young age," she said.
According to British Adoption and Fostering (BAAF) figures, 3,050 out of 65,520 children in the care of local authorities in England were adopted during the year ending March 2011.
Not all children in care seek permanent adoption, but are placed in foster homes until their own families can look after them again or are in short-term care for other reasons.
However, PACT said it saw on average about 4,000 children a year look for a new permanent home.