Turner's Donnington Castle painting could fetch £60,000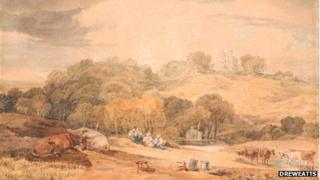 A signed painting of a Berkshire castle by JMW Turner is expected to fetch up to £60,000 when it is sold at auction later.
The watercolour of Donnington Castle, near Newbury, is thought to have been painted in about 1800.
The sale, which has been organised by Dreweatts auctioneers, takes place at Donnington Priory Salerooms, Newbury.
Archie Parker, the firm's picture specialist, described the painting as a "key part" of local history.
'Charming watercolour'
He said: "We are delighted to be offering this charming early watercolour by one of the greatest landmark British artists of the 19th century.
"It is particularly appropriate that the vendor should have brought the picture here as not only is it of Donnington Castle half a mile away from us, but it is also a key part of local history."
The watercolour, which measures 15.2cm (6in) by 22.9cm (9in), is a pastoral scene of hills, trees, cows grazing by a small lake and a group of milkmaids having a picnic, with the 14th Century castle in the distance.
All that remains of the castle today is the four-towered gatehouse, which is managed by English Heritage.
The painting, which is engraved and titled "Donnington Castle, taken from a Field adjoining the Road to East Ilsley, from Newbury", is expected to fetch between £40,000 and £60,000.