Union reacts to Bracknell Council's plans to axe 95 jobs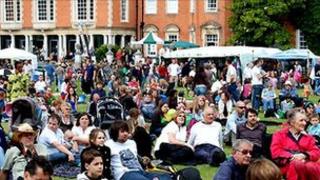 A public sector union says it is "gravely disappointed" by plans to axe 95 council jobs in Berkshire.
A consultation has started over planned cuts at Bracknell Forest Council to plug a £6m funding gap, which Unison blames on central government cuts.
The council plans to close three youth centres, cut £150,000 funding to Connexions and reduce its grant to South Hill Park arts centre.
Bracknell Forest Council plans to freeze council tax next year.
The public consultation on the proposed cuts will take place over six weeks.
Vulnerable people
Lorna Cameron, Bracknell branch secretary for Unison, said the cuts would hit vulnerable the old and young people the hardest.
Home care, which provides care to elderly people and Connexions, a service providing jobs and training advice for teenagers, both face cuts pending the results of the consultation.
South Hill Park's chief executive Ron McAllister said he was "sorry" to find out about the budget cuts to the Bracknell arts centre.
The Arts Council has also reduced funding for the venue by 50% in 2012/13.
"Whilst I completely accept that the arts need to take their share of the cuts, I would like to point out that the borough has already cut all its own arts posts and project funds, saving over £100,000."
He urged the council to give "further consideration" to the scale of the cuts.
'Difficult decisions'
Bracknell Forest Council's final budget, totalling £75m, will be set in February 2012.
Councillor Alan Ward, member for finance at the Conservative-led council, said the authority needed "to make £4m savings to cope with national cuts and inflation".
He added: "However, pressures of a further £2m to provide for important new commitments, results in a funding gap of £6m.
"This has required some difficult decisions but we believe that these will overall produce the least impact on our residents."
The council said it had managed to save £50m since 1998 but the 2012/13 budget "will inevitably be particularly challenging".
It also plans to introduce £30 annual charges for disposing of green waste.