Thatcham bell ringers ring 1,000th peal in St Mary's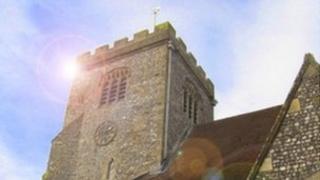 Bell ringers are to ring out the full peal of bells of a Berkshire church for the 1,000th time.
The ringers are due to reach the milestone later at St Mary's Church, in Thatcham.
St Mary's has 10 bells, ranging in weight from 280lb to 1,479lb, meaning a full peal takes up to three hours.
A peal of bells is a lengthy series of variations on the order of the different notes of each bell in the church tower.
The bell ringers said it was the first time the 1,000th peal of bells has been rung in full at any church in the Home Countries - and the fifth time in the whole of the UK.
Bell ringing expert William Butler, 81, who has been bell ringing since 1945, when he was 15 years old, said: "It's physically demanding to ring through a full peal of bells. It keeps you mentally and physically alert."
The Thatcham bell ringers say they know they are among a handful of churches in the country to complete a 1,000th full peal of bells because extensive records are kept at all churches with teams of bell ringers, which record the number of times the full peal has been rung.
The first full peal was rung at St Mary's Church in 1926.
Ten bell ringers will take part in the challenge, and the bells will start at 18:00 GMT and will go on till 21:00 GMT.