'Support' for Wokingham town centre revamp plans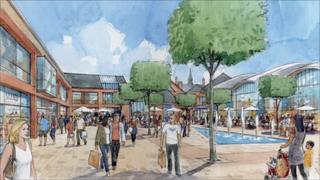 More than 500 comments have been received over £95m plans to regenerate the centre of Wokingham, the council has revealed.
It said about 70% of people backed the scheme, which will include new shops, a new supermarket, 190 homes and a park.
The council said about 1,750 people attended an exhibition over the summer.
The plans will be refined in light of the remarks, including worries over the loss of green space, with planning applications to be submitted next year.
'Compete with neighbours'
Councillor Matt Deegan, member for community regeneration, said: "People were very vocal at the exhibition, and since, and we are well aware that we won't please everyone.
"But we did receive a large number of positive comments - it was great that the exhibition allowed positive debate on what is needed in the town centre and how it can be delivered."
Developer Wilson Bowden has been working with the borough council to create design proposals for two areas of the town centre, Peach Place and Elms Field.
The developer said that Wokingham needed to compete with neighbouring Berkshire towns Reading and Bracknell.
But the Wokingham Society residents' group said plans to develop Elms Field would affect the "green lung within the heart of Wokingham".
The group added that the proposed supermarket's position on an "anchor site" would be unattractive for people coming into the town.
A full summary of the comments will be published in January.