Mobile app to keep Bracknell Forest Christmas revellers safe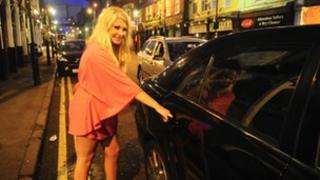 Festive partygoers in Berkshire will be able to check the licence details of taxis through a new mobile phone application.
Bracknell Forest has provided details for the free Am I Safe? app which also tracks passengers' locations.
Iain McCracken, executive member for public protection, said it "prevents a problem before it exists - being traceable makes people accountable".
But taxi boss Alex Ball said the scheme was not "completely necessary".
Mr Ball, of JJM Taxis, added: "There's not much of a problem with illegal taxis in the Bracknell area.
"We have plates and badges with photo ID on already. But it's fine if it gives people a feeling of security."
Chris Ellis, from Bracknell Radio Cars, said: "You need to think of people's safety. Young ladies will be able to make sure taxis are legal.
"But you've got to think of the safety of taxi drivers as well."
'Something unexpected'
Rob Sexton, head of Trading Standards and Licensing on Bracknell Forest Council, said "hard-working" drivers would benefit.
He added: "Unfortunately, there are those people who choose to flout the law and operate taxis or private hire vehicles illegally, putting lives in danger and damaging the reputation of those trying to make an honest living.
"Over the last year we have been working very closely with passengers, operators, police forces and councils to understand the challenges they face in ensuring the safety of passengers and drivers of taxis and private hire vehicles alike."
Am I Safe? acquired the vehicle details in a data sharing agreement with the council.
The application tells the user whether the vehicle is licensed, the type of licence it holds, the make and model of the vehicle and the licensing area it is permitted to operate within.
A footprint of the search is also created, storing time, location and car registration, making users traceable quickly "if something unexpected was to happen", Mr McCracken said.
The information is also automatically copied to nominated friends and family by email.
He added: "At the same time, the licensed driver will get an email with your username only, so they too know that if anything happens to them, or you, the journey is traceable."