Slough teenager enjoys Downing Street Christmas tea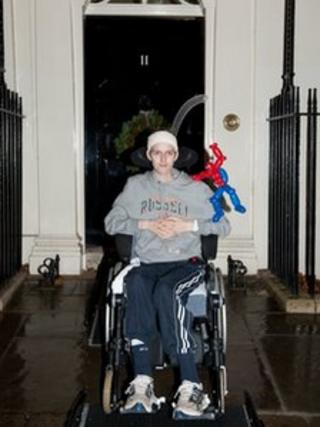 A seriously ill Berkshire teenager was among 40 children who attended a Christmas-themed tea party at No 11 Downing Street.
The party was hosted by the Chancellor George Osborne and the Starlight Children's Foundation charity.
Douglas Hibbitt, a 13-year-old from Slough suffers from a type of cancer called rhabdomyosarcoma.
He also met Dr Who star Matt Smith, former Spice girl Geri Halliwell, CBBC presenter Gemma Hunt.
Mr Osborne said it was "extremely humbling" to hear the children's stories.
'Tough for families'
"We hope that by coming along to our Christmas party we have helped them forget their illnesses for an hour or two and simply have a bit of fun," he said.
Matt Smith is an ambassador for the Starlight Children's Foundation charity, which helped organise the event.
The charity aims to grant wishes for seriously ill children and to provide stimulating programmes in hospital.
He said: "It's easy to forget how tough it must be for families with a seriously ill child and I am thrilled to support the work that Starlight does to bring them fun and distraction at a time when they need it most."
Neil Swan, chief executive of Starlight, said Christmas could be an "incredibly difficult time for families with a very poorly child".
According to the charity at least 20,000 children will spend time in hospitals and hospices across the UK over Christmas.