Dorney Lake to be surrounded by no parking zone in 2012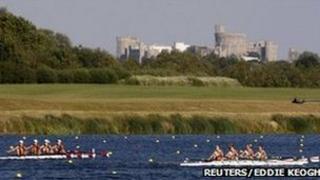 A no parking zone will be set up around the Olympic venue Dorney Lake in 2012 to help the area cope with thousands of rowing fans.
The Royal Borough of Windsor and Maidenhead plans to introduce extra residents' parking areas around Dedworth and Bray in summer 2012.
It hopes to minimise the impact of Olympic events on Berkshire residents in summer 2012.
Visitors who park illegally will risk a fine or having their cars towed away.
Phil Bicknell, the Windsor and Maidenhead councillor responsible for highways and transport issues, said: "People who live there are not going to be affected.
"We will do everything in our power to protect residents parking as they currently do."
Dorney Lake in Buckinghamshire will host rowing and kayaking events at the 2012 Olympics with 30,000 spectators expected daily.