Reading 'could get extra bridge'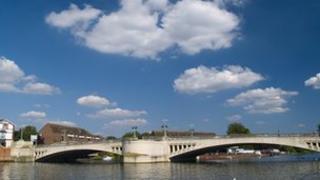 A new bridge could be built in Reading as part of the council's multi-million pound bid to get people using more green forms of transport.
Plans for the pedestrian and bicycle crossing over the River Thames is part of the council's £31.8m proposals.
There are three main routes over the Thames in the area, two in Caversham, Reading and one in Sonning, Wokingham.
If successful, the money would come from the government's £560m Local Sustainable Transport Fund.
To be successful the council needs to show it can cut CO2 output by 10%.
The bridge plans come alongside a proposed bike hire scheme and an expanded park-and-ride route.
The bridge could be installed near the town centre, though a similar government funding bid for a new Thames crossing was unsuccessful in 2009.
The results of council bids will be released in June.