Champion horse trainer Peter Walwyn appointed MBE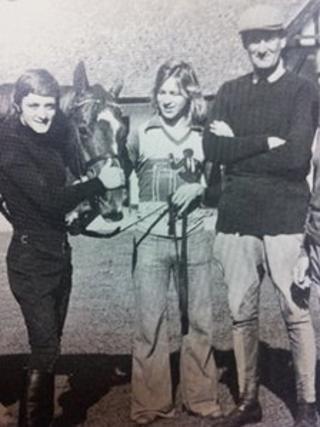 A horse racing trainer from Berkshire, who was twice named British flat racing Champion Trainer, has been appointed MBE in the New Year Honours.
Peter Walwyn, 78, from Lambourn, was honoured for his services to horse racing.
As well as training the most winners in the country on six occasions, his horse Grundy won the Epsom Derby in 1975.
He said: "I'm very honoured and thrilled for my wife and everyone else I've worked with over the years."
'From my heart'
Others recognised in Berkshire include the country's first black female mayor who was appointed OBE for services to the community in Slough.
Lydia Simmons was born in Montserrat in the West Indies but came to the UK when she was 17.
After moving from London to Slough in the early 60s, she became mayor of the town in 1984.
The former Labour councillor said the idea of being called Lydia Simmons OBE "sounded fantastic" but she stressed that she had not entered politics to get personal recognition.
"Whatever I do, I do from my heart and not to get honoured," she said.
Sky News special correspondent Alex Crawford was also appointed OBE.
The Windsor-based journalist has won the Royal Television Society Journalist of the Year award three times and became a household name when she broadcast live from Green Square during the Libyan uprising.
She was recognised for services to broadcast journalism.
Two Berkshire residents were given honours for services to the Royal Family.
Steven Davidson, horological conservator at Windsor Castle, was made a Member of the Victorian Order and horticulturist Graham Stone, from the Crown Estate, received the Royal Victorian Medal.
Other Berkshire residents recognised in the New Year Honours include:
CBE
Ruby McGregor-Smith, from the MITIE Group plc, for services to business and diversity in business.
OBE
Prof Dianne Claire Berry, from the University of Reading, for services to scientific research.
Peter Grace, for services to polo.
Dr Anne Murdoch, from Newbury College, for services to further education.
Adrian Newey, from Red Bull, for services to motorsport.
MBE
Ralph Allwood, former director of music at Eton College, for services to choral music.
Linda Bennett, from HM Revenue and Customs.
Catherine Burke, from Cabrini Children's Society, for services to children and families.
Janet Clayton, from HM Revenue and Customs.
Marika Fawcett, from the Department for Work and Pensions.
Deborah Hepplewhite for services to education.
Nicholas Hillsdon, from Queen Mary's Hospital, for services to prosthetics and to the community.
Irene Langton, for voluntary service to animal welfare and to the local community.
Elizabeth Leigh, for services to the British Red Cross and to the community in Newbury.
Roger Penfold, for services to the Amateur Swimming Association South East Region and to local government.