Thames Valley Christmas drink-drive figures up by 15%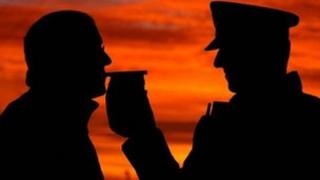 The number of motorists caught drinking and driving in the Thames Valley over the festive period rose by 15% on the previous year.
Between 1 December 2011 and 1 January 2012, 299 drivers were arrested for driving with excess alcohol compared to 261 in the same period in 2010/11.
The highest reading was 138 micrograms of alcohol in 100 millilitres of breath. The limit is 35 micrograms.
Supt Chris Brown called the rise "disappointing".
He said 82% of those arrested were men.
Supt Brown, head of roads policing with the force, said: "It is disappointing to see a rise in the number of people who are still not prepared to accept the dangers posed by drink-driving."