Tree roots caused Reading sewage flood: Thames Water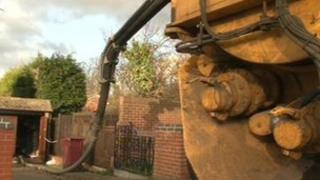 Raw sewage flooded the homes of elderly residents in Reading because tangled tree roots caused a blockage, a water company has said.
Royal Berkshire Fire and Rescue Service pumped out sewage at three bungalows in Honey End Lane near Bath Road.
Resident Christina Holland said residents were vomiting as waters neared 12in (30.5cm).
A Thames Water spokesman said: "We are really sorry to anyone who has had to endure the misery of sewer flooding."
'Absolutely terrible'
The spokesman added: "Having cleared the blockage, we are now doing a full clean-up of the properties affected and the road.
"On January 6 we cleared a section of the pipe that we knew was at risk of blockage on this section of road, but unfortunately it appears the roots were causing problems further along.
"We are now clearing the rest of this pipe to try and prevent any other problems."
Station manager Dom Manton said: "It's not nice to have flooding in the first place but when it's actually foul water it makes it absolutely terrible."
Ms Holland added: "We were physically emptying it into whatever we could until the fire brigade could come."
Assistant chief fire officer Paul Southern, who was on the scene, confirmed residents were "very distressed"