Swinley Forest fire family plants first tree of recovery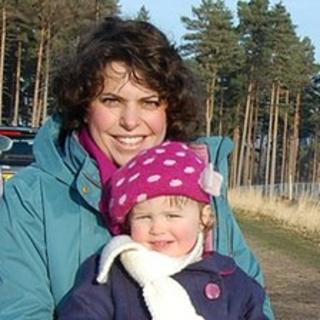 A family who were forced to leave their home due to a major forest fire last year are helping plant new woodland.
Hundreds of volunteers are expected this weekend to plant trees which will help the devastated Swinley Forest, in Berkshire, recover.
Annie and Chris Wilson, who live in Brookers Row, planted the first tree along with their 21-month-old daughter Amelie Wilson.
It was the first time Mrs Wilson had returned to the forest since the wild fires in spring last year.
"We were out of our house for six days," she said.
"From our house I could see the flames at the bottom of the road. Our neighbours were standing there and then the fire brigade came running down the road.
"We had five minutes to get everything from our house and leave. We didn't know if the fire was going to jump across the road and come to our houses.
"It was heartbreaking.
"The first night was the worst. We saw the flames and didn't know if we were going to have a house left."
Mrs Wilson said planting the trees was a "new start".
"It was a very stressful period, I haven't been able to go back to the forest since it happened, though my husband and daughter have."
Eight months on, the burnt trees have been mulched and the ground ploughed into furrows in preparation for volunteers, firefighters and foresters who will re-plant the destroyed areas.
Broad leaf trees such as chestnuts will be planted around the edge of the new woodland to ensure fire breaks will be in place to prevent another major wildfire taking place.
Rachel Ronca, 61, is one of the volunteers who has come forward to help with the re-planting of the forest.
Living in Sandhurst, she remembers seeing smoke "billowing" over the road.
"I couldn't go to my local pub for weeks," she said.
The nearby Golden Retriever pub became the headquarters for the firefighting effort during the wild fires.
So far 300 people have signed up for the tree planting which will take place on Saturday and over the coming weeks.