Rower Aodhan Kelly relives 'miracle' Atlantic rescue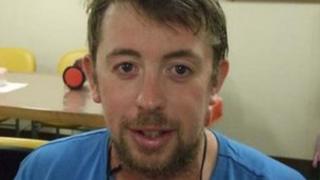 A rower from Berkshire who was on a boat that capsized in the Atlantic has said it was a "miracle" the crew survived.
Irishman Aodhan Kelly, 26, who lives in Reading, was part of the six-strong crew of the Sara G who had been trying to row from Morocco to Barbados in under 30 days.
They were 27 days and more than 2,000 miles into their journey when the 36ft (11m) vessel overturned.
Mr Kelly's crew members initially feared he had drowned because he took so long to surface.
Describing the moment disaster struck, he said: "The water rushed in so I held my breath - I realised there was a small pocket of air to my right, I grabbed a puff of that and made a break for it.
"When I reached the surface I took a gasp of air and the first thing I asked was, 'is everybody here?'"
His crew members had inflated a life raft and let off an electronic distress beacon which alerted coastguards in Falmouth who co-ordinated the rescue.
The men waited a further 14 hours before being picked up by a Panamanian-flagged cargo ship, the Nord Taipei.
'Hard to swallow'
Mr Kelly said: "You don't really appreciate how small the craft is until the rescue vessel arrives. One of the lads described it as like the Death Star.
"I don't know how these guys managed to co-ordinate the rescue - they did a very good job - but before that it was just you floating there on an inflatable.
"Nobody panicked, nobody caused any problems. It was a miracle we survived and in many ways it went as well as it possible could. Everybody did a good job."
Describing the failed record attempt, he said: "It's hard to swallow. We rowed well over 2,000 miles - we'd done really well."
Mr Kelly's girlfriend Ilsa Wermink said: "I was at work and it was during lunch that I got a phone call.
"At that point we expected it would be technical issues. At around seven in the evening I found out that they capsized. I didn't really sleep that much.
"It was surprising to see how quickly the news picked up on it. We were Googling things instead of hearing the direct story.
"The first time I heard his voice was through an Irish news show and it really made me cry.
"I think it was fight or flight so their basic instincts kicked in. Only now are they starting to realise what happened.
"They were in this relentless two hours on, two hours off - they never slept more than an hour and a half then, all of a sudden, they were on a Taiwanese ship where he's dressed in the gear of the guys in board.
"They're trying to communicate while the guys only speak Taiwanese and trying to organise toothbrushes and things like that.
"It's like the weirdest switchover of places to be in - a small rowing boat and a small life raft and on to a massive cargo ship."
The couple are due to be reunited in Gibraltar later and are expected to fly to Ireland to see Mr Kelly's family.
Ms Wermink said: "His mum made a funny comment, saying, 'If he's going to come up with this plan again I'm going to have to chop off his legs' and I thought, hmm, you might have to do that.
"I can't wait to see him and know he's completely fine."