Ponds planned around Thatcham to prevent flooding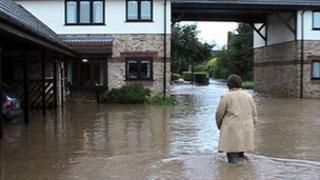 Plans have been drawn up for a series of "ponds" designed to prevent flooding in a Berkshire town during heavy rain.
Thatcham was devastated by severe flooding in July 2007 with about 1,000 homes damaged by flood water which rose to 4ft (1.2m) in places.
The proposed ponds would sit at the foot of hills and collect excess water.
West Berkshire Council has been given £40,000 by the government to look at a design for a first pond at Cold Ash Hill.
The authority's long-term plan is for a total of six "attenuation ponds" and it is in the process of bidding for more money to fund the first one.
Sewers overwhelmed
If it is successful and planning application is granted, digging is set to start in 2013.
The problems in Thatcham in 2007 were caused by sudden heavy rainfall which came rolling down the hills that surround the town and flowed straight into houses.
Stuart Clark, principle engineer at West Berkshire Council, said: "The ponds store and collect surface water run-off from the rural catchment above Thatcham, then releases the water at a rate the underground sewers can accommodate.
"By storing the water and releasing it at a controlled rate, it prevents the sewers becoming overwhelmed and surface water flowing over ground, which caused all the flooding in 2007."
Another 1,500 in other parts of west Berkshire were also hit by the floods five years ago.