Slough school towers to move to private home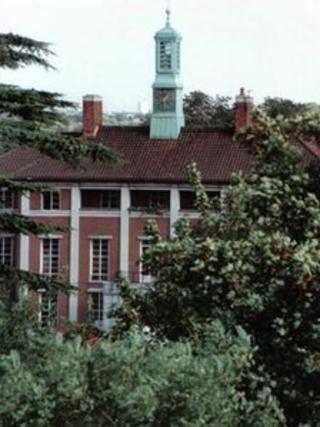 Two 90-year-old landmark towers which once formed part of a Berkshire school are to be moved to their fourth home.
The 5m-tall towers once graced the roof of the former Licensed Victuallers School in Bath Road, Slough.
When it closed they became part of a Tesco store, which took over the site, before they were moved to the council-owned Wexham Nursery in 2004.
The nursery has now shut but the towers have been bought by a garden centre owner who plans to take them home.
Each of the copper and lead towers weighs nearly a tonne and conservation experts have been involved in the discussions to find them a new home.
Robin Ellis, who bought the towers, said: "I am a local boy who grew up in Slough and my three children attended the Licensed Victuallers School at its current Ascot facility.
"I am happy that I have been able to obtain these historic pieces and give them pride of place in both my formal gardens and at my nursery facility."
Slough Borough Council's environment and generation councillor John Rice said: "The closure of Wexham Nursery meant these spectacular towers were without a home.
"We promised, when the previous Tesco building was demolished, we would take care of them and we are really pleased Robin has offered to give them a good home.
"They are part of Slough's history and now they will be preserved for the future."