Remembrance book leaves Slough town hall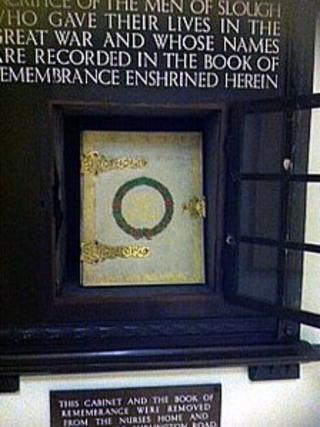 A book of remembrance which has been housed in the entrance of a Berkshire town hall for more than 60 years is to move to a new home.
Slough's old town hall is being converted into a primary school to help tackle a shortage of school places.
The book of remembrance, which has been part of the building since 1950, will be temporarily stored before being transferred to St Mary's Parish Church.
It will move to the church when a cabinet to house it is complete.
The illuminated book, set in a wrought iron case, is a listed war memorial and contains the names of the "men of Slough" lost in both world wars.
It was moved to the Town Hall from the former Nurses Home and Health Centre on Burlington Road when the World War II gardens of remembrance were officially opened on 14 May 1950.
Its casing will also be removed from the building, although a special cabinet has been commissioned for its new home.
St Mary's Parish Church grounds is also the site of the town's main war memorial.
Mayor of Slough, councillor Sukhjit K Dhaliwal, said: "As part of the remodelling of the Town Hall the book of remembrance has to be moved from where it has rested for more than 60 years.
"As a listed war memorial we are ensuring future generations will be able to have access to it, by placing it near its stone companion within St Mary's Church."