Ascot Birthing Centre should not reopen, says board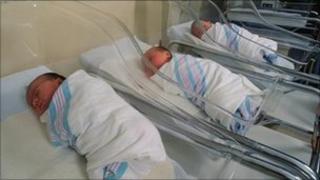 The Board of Heatherwood and Wexham Hospitals Foundation Trust has recommended a Berkshire birthing centre should close permanently.
At a Thursday board meeting, the trust said Ascot Birth Centre could not offer a "dependable, sustainable service".
The trust will write to NHS Berkshire Primary Care Trust, which commissions and pays for the service, to seek a final decision on the unit's future.
NHS Berkshire said it would consult before permanently closing the service.
Heatherwood Hospital shut the birth centre in September after maternity leave and sickness left it with staff shortages.
About 200 babies were born every year at the midwife-led unit in Ascot.
Patient safety
However, a report from the hospital's chief executive Philippa Slinger revealed GPs in Ascot and Bracknell have ended their contract with Heatherwood for community midwifery services.
This means by the end of April, their patients will be transferred to Frimley Park Hospital in Surrey, further reducing demand for the unit.
In a statement, the PCT said: "NHS Berkshire recognises that the recommendation from the Heatherwood and Wexham Park Hospitals NHS Foundation Trust Board to permanently close the Ascot Birth Centre would be a significant service change even though the centre has been closed since September 2011 for patient safety reasons.
"Any significant service change requires full public consultation.
"This will take place at the point when NHS Berkshire is clear about the future proposals for the Heatherwood Hospital site.
"Whilst this work is undertaken the Ascot Birth Centre will remain closed for patient safety reasons."