Body found in Great Ouse River in 1986 exhumed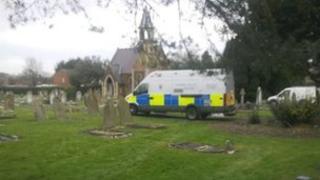 Police investigating the death of a man aged under 30 whose lower half was found in a Buckinghamshire river about 25 years ago are exhuming the remains.
The remains were recovered from the Great Ouse River at Olney, near Milton Keynes, in December 1986.
The man was not identified and an inquest returned an open verdict.
Police said the remains in Fenny Stratford cemetery were being exhumed to take DNA samples to compare with relatives of a missing person.
Det Sgt Craig Kirby, of Thames Valley Police, said: "We have engaged with the family members of the longstanding missing person who are fully supportive of this process and have provided DNA samples which will allow our experts to do a comparison."
Officers were planning to take the remains to Milton Keynes Hospital for DNA testing but may end up doing the DNA testing on site.
The exhumation will take the whole day and it will take about three weeks to determine the identity.