Maidenhead street strewn with porn films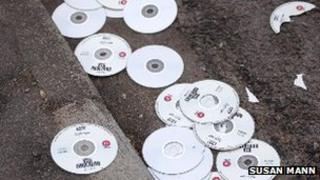 More than 100 pornographic DVDs were left strewn across a Berkshire street, to the surprise of its residents.
People living in Pinkneys Road, Maidenhead, woke up on Monday to find the DVDs spread along the street.
Thames Valley Police said there was no evidence a crime had been committed, with no suggestion the 18-rated DVDs had been stolen, and they would not pursue the matter any further.
Residents expressed concern the DVDs had been dumped near a girls' school.
'Impressionable girls'
Graham Mann, 57, his wife Sue, 51, and a neighbour cleared up the DVDs from the street and put them into a bin bag.
Mr Mann said his wife briefly viewed one of the films.
He said: "They were thrown all over the path and all over the road. The cars had come along and they'd got mangled and cracked and broken all over the place.
"To suddenly to see a stack of DVDs such as these was somewhat of a surprise.
"I was rather bemused as to why somebody had dumped them there. It was just a rather amusing and surreal situation."
Approximately 40 further films were found further north in Pickneys Drive.
Mr Mann admitted he had concerns about the proximity of the find to Newlands Girls' School.
He added: "We have a lot of young, impressionable girls - though these days maybe not so impressionable - that go down to school and pass by the house, and maybe they would have thought it looked quite interesting and picked up a few en route."
Mr Mann said the police collected the bin bag and its contents on Tuesday.