Berkshire to host UK's first 'happiness weekend'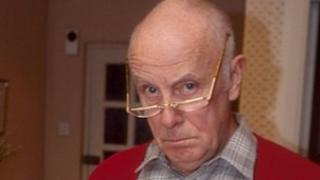 Take well-known grumpy TV characters Victor Meldrew and Alf Garnett and put them in a class on how to be happy. You can imagine what their reaction might be.
But at the UK's first "happiness weekend", taking place in Berkshire, seminar leader Prof Neil Frude said his lessons would be able to "rewire" the most negative of brains.
"Psychologists are famous for encouraging people to see the glass is half full rather than half empty," he said.
Skills to be learned during the weekend include "increasing joy and other positive emotions", "seeing yourself and other people in a more positive light" and "using mindfulness meditation".
But Prof Frude, a consultant clinical psychologist, said the weekend was not just about fun - it had a real scientific basis.
Juggling
Wellington College in Crowthorne, which is hosting the weekend, is one of the homes of happiness teaching. It pioneered well-being lessons as part of its curriculum in 2006.
Year nine, 10 and 11 students are given an "activity approach to happiness", said teacher Ian Morris, "that happiness arises from doing things well, from being excellent".
The public school is now introducing lessons to its sixth form students.
The idea behind the forthcoming weekend is to give people of all ages the building blocks to a more fulfilled life, and to hammer home the notion that the cliched desires of those living in the Western world - money, beauty and physique - are not the keys to happiness at all.
Prof Frude said: "If you say to people 'what would make you happy?', then they would say things probably like 'if I had a Mercedes car' or 'if I married a beautiful woman' or 'if I had a million pounds'.
"But we actually know, because research has been done, that those things don't bring happiness."
What does bring happiness, he added, are the more "spiritual" things in life, such as relationships and "having things to look forward to".
Prof Frude cites joining a choir as a good example of going to a regular event where you meet people and improve your skills.
But is this all too easy? Can your Meldrews and your Garnetts really be re-programmed?
"Absolutely," he said.
"You can actually change the hard-wiring of the brain," he said. "That's one thing that's been found.
"If you start juggling, for example, with hours and hours of practising - dropping balls, picking them up and trying again.
"You get better and better because your brain is being rewired so that you have a juggler's brain."
'No substance'
Certainly the art of happiness is something picked up by the government with its Well-being Index, which are indicators of citizens' happiness, and the creation of Action For Happiness, which calls itself "a movement for positive social change".
The BBC's social experiment Making Slough Happy in 2005 noted that residents felt 33% happier after specialists gave them pointers on how to lead a more fulfilling life.
But critics claim that these happiness lessons are really only for those people who are pre-disposed to positive thinking in the first place, and that the lessons lack a vital depth.
In anacademic paperexploring positive psychology, Alistair Miller said: "The danger is that instead of...considering the social and political measures that might really improve people's circumstances, positive psychology offers a substitute recipe for success, achievement and happiness that ultimately has no substance."
Bi-polar Reading resident Marcus Fairley said: "From first hand experience the idea of a 'happiness weekend' would not have been any use to help someone like myself, even with people around you to support you.
"The manic highs and lows cannot be controlled practically or through talking, unfortunately."
But Prof Frude maintains that a weekend of being taught happiness skills would offer "long-term" well-being.
"It's about developing skills which you can take away and hopefully make you that bit happier for the rest of your life," he said.