Wokingham schools expansion plans approved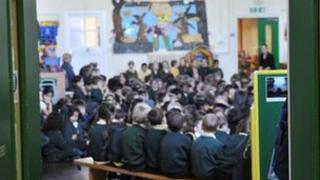 Plans to spend £5.5m on expanding two Berkshire primary schools have been approved.
Wokingham Borough Council is increasing the number of places at Colleton and Hawkedon Primary schools by 305 in response to a growing local demand.
At Colleton places will increase from 35 to 60 a year and at Hawkedon from 70 to 90 a year, across all year groups at both schools.
The schools will also get more teaching space, new play areas and more parking.
Councillor Rob Stanton, executive member for education services, said: "We have one of the fastest growing young populations in England for four to five-year-olds sending the demand for our primary school places up year on year.
"Indicators show this will continue.
Constantly oversubscribed
"This is in addition to much needed new housing which is being planned across the borough, which all highlights the need to create more school places.
"We are not just expanding these two schools. We are also taking the opportunity to revitalise the rest of their facilities, so the children and staff will feel like they have new schools."
He said Colleton Primary School had been oversubscribed for years and was getting worse.
Ofsted rates it as "outstanding" but it is located in one of the fastest growing areas of Wokingham.
The plan for Colleton includes more teaching space, a new hall, a remodelled playground, car parking and drop-off zone.
Hawkedon, rated as "good" by Ofsted, will get a single storey primary school building and a number of new extensions and courtyard buildings, play areas, games facilities and a traffic drop-off zone.