Slough hospital hosts live prostate operation webcast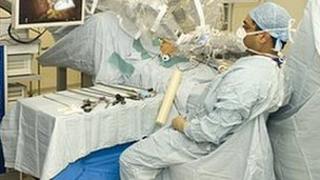 A live webcast of a prostate operation at a Berkshire hospital has been broadcast around the world.
Wexham Park, in Slough, said it was the UK's first webcast of its kind and had been watched by the public, GPs and urologists in 38 countries.
The operation was carried out as part of Prostate Cancer Awareness Month using the hospital's da Vinci robot.
The tutorial was also to put patients' mind at rest about the non-invasive procedure, surgeon Omer Karim said.
Dr Karim said the hospital was at "the forefront of robotics" and called the da Vinci robot "like a spider with lots of tentacles".
'Help patients understand'
He described operating the £1.8m robot as "like playing a piano, using both your hands and feet".
The hospital said thousands of people from five continents had logged on to watch the live stream, which lasted for two hours and 42 minutes.
Dr Karim, who has been called one of the top robotic surgeons in the UK, said the idea of filming a live operation was to "show that immediacy".
He added Wexham had been chosen because it had the most advanced da Vinci robot and because he taught robotics surgery already.
The webcast, which was filmed under General Medical Council guidelines, was supported by the Prostate Cancer Support Organisation, which said it would help patients understand the procedure.
Spokesman Ian Graham-Jones said: "It is good that there is one such system in the Southern area, enabling those that come to us for help and advice to make the right decision on treatment options."