Ufton Nervet villagers receive annual gift of bread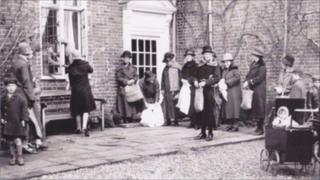 Parishioners in a Berkshire village have taken part in a traditional ceremony in which bread is distributed to the "poor" of the parish.
The annual Ufton Nervet Dole Ceremony takes place at Ufton Court in West Berkshire.
Landlord Sir William Benyon handed out the dole, first given in 1581 by Lady Elizabeth Marvyn.
She left an annual bequest to the "poore of Ufton" in her will.
Lady Elizabeth, the then owner of Ufton Court, is said to have put the gift in her will to repay an act of kindness.
'Good deed'
Residents of the nearby village had helped her home safely when she became lost in nearby woods.
She never forgot this "good deed" and asked for the dole to be dealt out annually from Ufton Court.
The original terms of the will granted 10 bushels of wheat to be made into household bread, 12-and-a-half ells (an old measurement) of canvas for shirts and smocks and 12-and-a-half yards of narrow blue cloth for coats and cassocks.
She handed out the dole from the window of her home at Ufton Court and the tradition was repeated when the Lord of the Manor Sir William handed out more than 100 loaves.
Over the years, the tradition has been somewhat altered so that all parishioners living in the ecclesiastical parish of Ufton Nervet now receive two large loaves of bread.
Some are also eligible for towels every five years.