Slough's wedding season brings Asian gold theft warning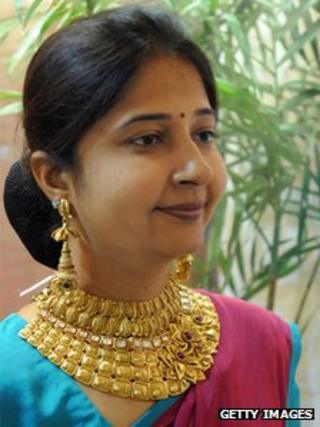 "At one point the robberies were two a day, and people weren't going out of their houses.
"I know someone who lost close to £50,000 of jewellery.
"Another lady, whose only savings were her jewellery, went out shopping, came back and found she had lost everything."
Councillor Tahir Maher was describing a spate of gold thefts which affected the Asian community of Earley near Reading last year.
Shakeel Khan, a local resident, decided to set up a neighbourhood watch scheme after his uncle, cousins and neighbours were targeted.
He said people were living in fear of being burgled.
Both now say the situation has hugely improved in Earley due to better policing, but elsewhere in Berkshire gold theft remains a problem.
In Slough, Asian gold thefts accounted for a third of all burglary offences last year, numbering 300 in total.
Asian families are being targeted by thieves due to the high price of gold and the tradition of giving and receiving high carat gold jewellery within their communities.
Police say the thefts are carried out by a number of groups, including organised criminal gangs from overseas, London and the Midlands.
Police fear that number of burglaries in Slough could increase due to the wedding season over the spring and summer, traditionally a time when overseas visitors come to the area with gifts of gold for newly married couples.
Religious celebrations
Mr Maher said in north Earley thieves had taken advantage of religious celebrations to target Asian households.
"With us, it started during Ramadan, when a lot of people were going to each others' houses to break the fast, and then going to prayers, the houses were empty and it was a prime target for jewellery.
"People get dressed up for Eid or parties they are being invited to and put their jewellery on, so they get the jewellery out, you leave it about.
"The police said the thieves can go through your house in and out in 14 minutes."
Det Ch Insp Kev Brown, crime manager for Slough, said police had been visiting Slough gurdwaras, women's groups, mosques and schools to carry out crime prevention work.
Thefts have increased as the price of gold has rocketed in recent years, going up as much as 14% in 2011 to about £1,133 an ounce.
"When the robberies were happening last summer gold was ridiculously high, my parents' generation, any spare cash they had they would put into buying gold, and this would be an investment," said Mr Maher.
Although jewellery shops are supposed to keep a log of jewellery transactions and ask people selling gold for their ID, some unscrupulous ones do not follow the rules, according to Mr Brown.
"An unscrupulous jeweller can buy gold worth £20,000 for about £4,000 if it's stolen," he said.
Jewellers have also been the victims themselves of thieves, with attacks carried out on several of Slough's 33 shops selling gold.
Another problem facing households with large amounts of valuable gold jewellery is the scarcity of deposit boxes in banks.
"One bank... when we pressurised them, allowed us a deposit box, but then it filled up within days," said Mr Maher.
Police advise those with valuable gold jewellery to keep it in a bank, or failing that, in a safe, and to keep windows and doors locked and if possible alarmed.