Reading Festival to donate £5,000 a year to Caversham Festival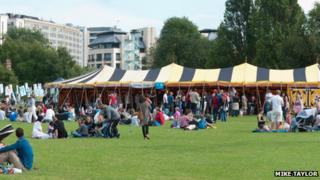 The Reading Festival has thrown a lifeline to one of the town's smaller arts and music events by giving it a £5,000 annual grant for the next five years.
Festival Republic, which runs Reading Festival, is sponsoring the Caversham Festival after it struggled to achieve its funding target for this year.
Boss Melvin Benn said he was "proud" that Reading Festival was "part of this community" and he hoped the funding would ensure the free local event could "not only be sustainable, but help it go from strength to strength".
Russell Alsop from arts charity Readipop, which runs the Caversham festival, said without the donation this year's event "may not have happened".
'Inconvenience residents'
The funding was also given in recognition of the disruption the Reading Festival can cause to the local community of Caversham where it has been staged for the past 30 years, Mr Alsop said.
"Festival Republic recognises that the Reading Festival has an impact on its neighbours," he said.
"Some of the community's businesses do benefit from all the extra footfall, however for the residents it can be an inconvenience."
In the past Caversham residents have taken issue with traffic disruption and noise pollution caused by the festival, which attracts more than 50,000 music fans each August bank holiday to the Little John's Farm site on Richfield Avenue.
Helen Lambert, chairwoman of Caversham and District Residents' Association, said: "It is unusual to have a large event like Reading Festival quite so close to residential areas and it is inevitable that life during the festival weekend is different in many ways.
"From our regular meetings with Melvin Benn and his team, we know that they are very aware of the impact on people locally and they try to find a number of ways to give something back."
She said she was "delighted" that the future of the Caversham Festival had been secured.
The community festival, which is in its 13th year and offers music stages, theatre and children's workshops, attracts up to 6,000 people.
This year's event takes place at Christchurch Meadows on 8 July.