WWF calls for change to River Kennet pumping licenses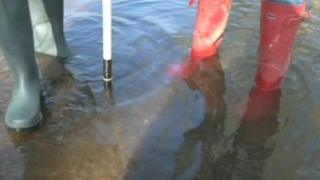 A charity says exceptionally low water levels on a Berkshire river are having a severe impact on wildlife.
WWF is calling for changes to licences granting the abstraction of water from the River Kennet.
The river is a major source of drinking water for homes and businesses in both Berkshire and Wiltshire.
Operator Thames Water, which holds the abstraction licenses, insists two dry winters and not its own activities are to blame for the low level.
The River Kennet has been identified by the Environment Agency as an over-abstracted river in need of remedial action.
Last December, the government published a Water White Paper which included proposals to allow water companies to tackle over-abstraction in their future funding plans.
But the WWF said many would take years to implement and has urged the government to fast-track the legislation.
'Fish killed'
Rose Timlett, WWF freshwater policy officer, said she believed pumping water out of the river at Axford in Wiltshire was having serious consequences downstream in Berkshire.
She said: "We've already seen a number of fish killed in the top part of the river.
"But all the way along the river, low flows can start to change the nature of the eco-system if they're there for a long time.
"It affects everything in the river, from the smallest bug to the biggest fish."
Simon Evans from Thames Water said: "Equally our abstraction from the river doesn't help and we recognise that.
"We agree with the Environment Agency's plans to reduce abstraction from Axford. We have a plan to do that, and in the coming years that will be delivered."