Berkshire incinerator application rejected by council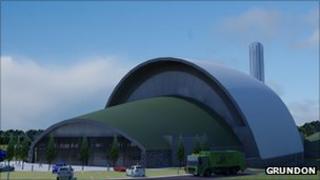 Plans to build an incinerator beside the M4 have been refused by West Berkshire Council.
Grundon wanted to build the facility on the Old Kiln Quarry site at Chieveley, which is an Area of Outstanding Natural Beauty.
Campaigners against the plans had accused Grundon of making it hard for people to respond by submiting the planning application before Christmas.
If approved, the plant would have provided electricity for 50,000 homes.
The West Berkshire Against Grundon Incinerator group felt fewer people would respond when public consultation opened in December.
Simon Connington from the group said: "The group was only formed around 18 months ago so to get this result is absolutely fantastic.
"The plan was to build a plant completely for commercial reasons and there's been more than 3,800 letters of objection to building it in an Area of Outstanding Natural Beauty.
"That's unprecedented, right up to the point where the council was struggling to keep up with the number of letters they were receiving."
Grundon said the incinerator would provide a safe, efficient and environmentally sustainable way of dealing with waste.